---

Dee LeBlanc is a committed and passionate real estate professional who prides herself on putting her clients' satisfaction above all else. Her determination and attention to detail allows her clients to receive first class service with utmost integrity.
A Double Diamond Club Member with Realty Executives in Waltham, MA, Dee is widely respected among clients and peers alike for her honesty, loyalty, professionalism and sincere devotion to serving buyers and sellers throughout the Metro West area.
Having received many awards for her sales achievements during her career as a Real Estate Professional, Dee is currently ranked in the top 1% of Waltham Realtors.
Dee's personality and style blend exceptionally well with the perseverance and stamina that has earned her a reputation as one of the most trusted and admired real estate professionals in her area. Having a passion for interior design, Dee is able to assist her clients in realizing the full potential of each property she represents.
Dee is a mother of two and has been happily married for nearly 20 years to Daniel LeBlanc, owner of D.J. LeBlanc, Inc., a well-established and respected construction firm. In addition to her own successful business dealings, Dee finds the time to utilize her design and decorating talents on joint projects with her husband's company. She has put her personal touches on many quality homes and condominium projects throughout Waltham and surrounding towns, displaying Dan's and Dee's fine quality of work.
Dee LeBlanc possesses a natural repertoire of dynamic qualities that set her apart in today's real estate market, enabling her to successfully attain the goals of the Buyers and Sellers whom she represents. Dee believes in selling Real Estate with Integrity!
---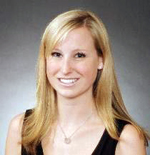 Ellie Scribner Toivonen, Realtor, ABR
is the SOLD on Integrity Team's Accredited Buyer Agent Specialist. As a Buyer Agent, she represents Buyers' best interests at all times. Her Buyers receive undivided loyalty, reasonable care, disclosure, obedience to lawful instruction, confidentiality and accountability. Ellie places her Buyers' interests first and negotiates the best price and terms for her Clients.
Ellie is a Regis College Business Management graduate. Ellie interned for Barrett Realty, Co., in Concord, Massachusetts, where she provided support to one of its' top brokers. Ellie handled all aspects of the real estate transaction. This position allowed her to interact and develop a relationship with both buyers and sellers. When joining the SOLDonIntegrity Team, Ellie decided to specialize as a Buyer's Agent. Her dedication and knowledge sets her apart from the rest.
Finding and buying a home can be an extremely stressful process. Having someone to help and guide you through, can make all the difference. Ellie is familiar with the area, what is available and what will be coming available. Together with Dee LeBlanc's knowledge of the Local Real Estate Market, Sold On Integrity fits all your real estate needs. You will not be disappointed!